KAPP Araw ng Pagkilala 2020
"Dunong at Paglilingkod": A Call to Serve for UPD CSSP Batch 2020
By: Asst. Prof. Divine Angeli P. Endriga
On 25 July 2020, 10:00 am, the College of Social Sciences and Philosophy (CSSP) held its recognition ceremony for 300 candidates for graduation from 12 graduate and nine undergraduate programs. The unprecedented nature of the COVID-19 pandemic brought a lot of changes, among them, how recognition ceremonies are conducted. In a historic first, the ceremony was held virtually and broadcasted via Zoom and YouTube.
With the theme "Dunong at Paglilingkod", graduates were encouraged to use their knowledge to give service to the country and its people. This is exemplified by the service given by various sectors of the CSSP and University of the Philippines (UP) Diliman community during this period in history.
Chancellor Fidel R. Nemenzo opened the ceremony. In his message, he highlighted the efforts of the UP Diliman community to respond to the pandemic. In a time of crisis, UP Diliman did not lack in sharing knowledge and giving alternative solutions to the problems of the nation. Chancellor Nemenzo emphasized how graduates of social sciences and philosophy can help in "questioning, analyzing, and coming up with creative solutions to problems" especially in a time of VUCA (volatility, uncertainty, complexity, and ambiguity).
This is echoed by Dr. Maria Bernadette L. Abrera, former CSSP Dean (2017-2020) who helmed the College through the public health crisis. Even while going through uncharted territories, CSSP's "enduring values that we hold and believe in" remain: employees and students helping one another, an outpouring of generosity, taking a stand against the anti-terrorism bill, and Palma Hall transforming into a community quarantine facility. All these have shown how "our scholarship is responsive, engaged, and committed," the same attitude that is inculcated in each CSSP student, exemplified in the values of "Dunong at Paglilingkod". As parting words, she said, "We your teachers bid you, do not be afraid, for you did not receive an education to develop a spirit of fear but of daring, not a spirit of timidity but of passion, bravery, and selflessness."
One person who has demonstrated the values of knowledge and service is this year's guest speaker, microbiologist and infectious disease specialist Dr. Raul V. Destura. He is also the Deputy Executive Director of the Philippine Genome Center and an Associate Professor at the UP Manila National Institutes of Health. Dr. Destura and his team of UP scientists developed the low-cost COVID-19 testing kits—the GenAmplify COVID-19 rRT-PCR Detection Kit. Aside from the testing kits, he is tirelessly working on developing low-cost and accessible technologies for the control of infectious diseases in the country.
With all his achievements, Dr. Destura is driven by "having a dream and starting somewhere." That dream includes being able to serve the country as a physician and a scientist, train and mentor students and do research that translates immediately to the betterment of human health. That dream led him to return to the Philippines in 2005 despite the research he could do in a "first world country" with access to "Star Trek/Star Wars levels" of technology. He was instrumental in transforming a one-man office into an institute which is one of the most advanced molecular facilities in the country and now houses multiple research faculties and staff, returning and visiting scientists, numerous publications, patent applications, etc. He earned a lot of accolades but for him, the best reward is to see the research output of his team being used in the service of his countrymen and gives the honors a deeper meaning.
The achievement of dreams and being of service come with a lot of difficulties. He shared words of advice from the lessons he learned to the graduating batch, among them:
to dream, which is necessary to transform reality;
to recognize that opportunity knocks only once, but they can certainly be chased;
to execute ideas, as they will remain ideas unless they are implemented;
to start and work smart, by stopping with excuses;
to strengthen emotional intelligence (EQ);
to develop the virtue of persistence, as things do not work all the time;
to persevere, work hard, have a can-do attitude, and pray; and
to have humility and respect for human dignity.
Dr. Destura has served the country as a scientist and did encourage the graduating batch to serve the nation in their own capacities. This call is resonated by Ms. Nicole Charis Pontanilla from the Department of Linguistics, one of this year's summa cum laude graduates of the College, who delivered the response of the students. Drawing from her experience in linguistic fieldwork, she said that "for every language surveyed, a distinct way of living and thinking is discovered," enlightening us to "the issues and needs that are likewise unique to each linguistic community." Addressing her batchmates, "just as we are diverse in our strengths and our fields of study, our service can be expressed through various means, each unique to where we are called to serve."
Service can be in educating the next generation, making policies, conducting research, predicting trends, raising awareness to structural factors that lead to poverty and marginalization, and many others. It can be in buying goods from local farmers and small businesses or in supporting the struggling jeepney drivers. It can be by giving words of comfort, of encouragement. There is an opportunity to serve daily, but wherever life may take this batch, "service will be setting the standard of integrity and excellence". Ending her speech, she said, "Service is not of one language. Do not let it be silenced by injustice, by our privilege, by self-interest. Let it influence."
Graduates were presented by their respective program coordinators and department chairs and then inducted into the KAPP Alumni Association by Dr. Ruth Lusterio-Rico, Associate Dean for Academic Affairs and Officer-in-Charge of the College. The program ended with the singing of UP Naming Mahal to the music virtually recorded by the UP Symphony Orchestra.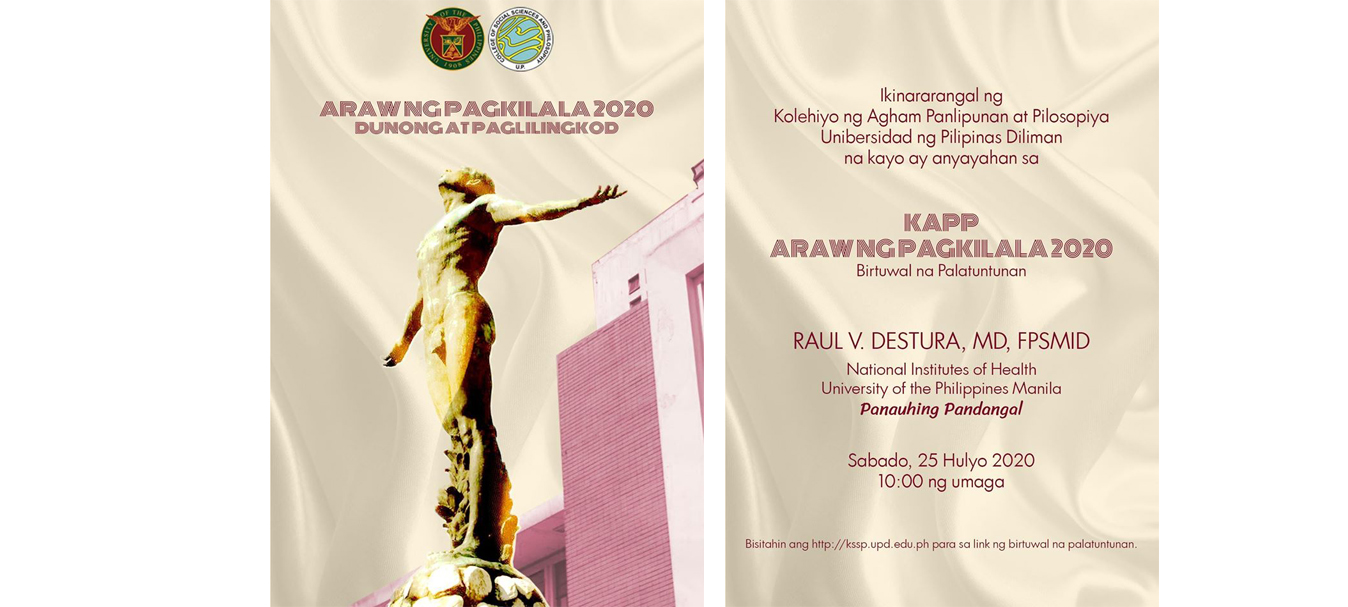 Dr. Maria Bernadette L. Abrera's Opening Remarks ¦ Dr. Raul V. Destura's Commencement Speech ¦ Ms. Nicole Charis M. Pontanilla's Graduation Speech
PDF File: Dr. Maria Bernadette L. Abrera's Opening Remarks ¦ PDF File: Ms. Nicole Charis M. Pontanilla's Graduation Speech